Residential
Commercial
More
Health and Safety
Go Green
Plaster Start Up
Filter Types
Water Feature Services
Leak Detection
Photo Gallery
Tile Cleaning
Inspections
Remodeling Services
Repair Services
Other Services
Professionalism
About Us
Contact
Home
VIRGINIA GRAEME BAKER POOL & SPA SAFETY ACT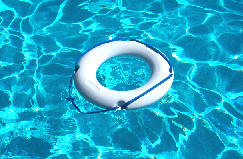 "Federal Swimming Pool and Spa Drain Cover Standard"
Entrapment is when a part of a person's body is sucked on to a main drain cover or other suction line. Entrapment can cause someone to get their hair pulled into a main drain grate, have their body stuck to the bottom of a swimming pool and/or spa, have eyes be sucked out of their skull, or even be eviscerated.
On December 19, 2007, the President signed into law the Virginia Graeme Baker Pool and Spa Safety Act, named after the daughter of Nancy Baker and the granddaughter of former Secretary of State James Baker. Graeme Baker died in a tragic incident in June 2002 after the suction from a spa drain entrapped her under the water. This Act was first introduced by Rep. Debbie Wasserman-Schultz (FL) and was supported by the Baker family and Safe Kids Worldwide.
There is an annual average of 283 drowning deaths (2003-2005) and 2,700 emergency room-treated submersion injuries (2005-2007) involving children younger than 5 in pools and spas. In addition, from 1997-2007, there were 74 reported incidents associated with suction entrapment, including 9 deaths and 63 injuries. The new law is aimed at reducing these deaths and injuries by making pools safer, securing the environment around them, and educating consumers and industry on pool safety.
The Act specifies that on or after December 19, 2008, swimming pool and spa drain covers available for purchase in the United States must meet specific performance requirements. Additionally, public swimming pools, wading pools, spas and hot tubs must meet requirements for installation of compliant drain covers. New drain covers which meet the current standard are now beginning to make their way into the marketplace. Additionally, in certain instances, public pools and spas must have additional devices or systems designed to prevent suction entrapment.
U.S. Consumer Product Safety Commission (CPSC) staff has prepared this guidance document that spells out the technical requirements of Section 1404 of the Act, along with CPSC staff's answers to certain enforcement and legal issues. This document takes into account comments provided to CPSC during an open comment period in March 2008. Comments were provided by a member of the U.S. House of Representatives, state government officials, pool industry representatives, safety equipment manufacturers and representatives, consumer safety organizations, and others.
We urge all public pool and spa owners and property managers to carefully review this document and to constantly monitor the National Swimming Pool Foundation (www.nspf.com) and the CPSC (www.cpsc.org) websites to get any updates.
We recommend closing down your swimming pool, wading pool, and/or spa areas until these issues are resolved.
Link to LA County Health Department Virginia Graeme http://www.lapublichealth.org/eh/docs/ep_sw_pools_vgb.pdf
Link to Orange County Health Department Virginia Graeme http://ochealthinfo.com/regulatory/pool/baker-text.htm