Residential
Commercial
More
Health and Safety
Go Green
Plaster Start Up
Filter Types
Water Feature Services
Leak Detection
Photo Gallery
Tile Cleaning
Inspections
Remodeling Services
Repair Services
Other Services
Professionalism
About Us
Contact
Home
HEALTH & SAFETY
AND
YOUR LEGAL RESPONSIBILITIES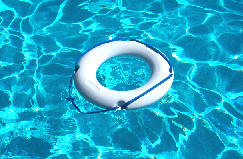 Swimming has historically been associated with exercise and health. The ability to swim builds self-confidence and leads to a wide variety of other aquatic related activities. However, the water and sometimes the air above the water can contribute to unhealthy conditions for the bathers in your swimming pool unless proper water quality management is maintained.
Preventing people from getting sick due to contact or ingestion of contaminated water is the primary reason why swimming pools are constantly treated with disinfectants. Gastroenteritis-related disease outbreaks remain the most common of swimming pool related illnesses.
Gastroenteritis is a stomach and intestinal disease that can range from a minor stomachache and diarrhea to death. Most gastroenteritis outbreaks in water are caused by accidental fecal releases (AFRs) in or around the swimming pool. Cryptosporidium and Pseudomonas are the leading cause of gastroenteritis.
Cryptosporidium parvum (Crypto) is a protozoan and is mainly distributed through diarrhea, which can dilute in the pool water and be less noticeable. The infective stage of the organism, the oocyst, measures 4 to 6 microns in diameter or about the size of a red blood cell and is resistant to chlorine. Ingestion of fewer than 10 oocysts can result in cryptosporidium. Infection typically lasts 10 to 14 days. The symptoms include diarrhea, vomiting, fever, and abdominal cramps.
Pseudomonas aeruginosa is an opportunistic pathogen of humans that causes urinary tract infections, respiratory system infections, dermatitis, and soft tissue infections. It tolerates a wide variety of physical conditions, including temperature, and is notorious for its resistance to antibiotics
Like Crypto, Giardia lamblia is also a protozoon. Giardia is the most frequent cause of non-bacterial diarrhea in North America. It is spread via contaminated food and water and by direct person-to-person contact. In swimming pools, it is mainly distributed through solid stool. Although easier to remove solid stool, once seen in the pool, all bathers should leave and the entire body of water should be considered contaminated. Infection typically lasts 1 to 2 weeks and the symptoms are similar to Crypto. Giardia has become recognized as one of the most common causes of waterborne disease (drinking and waterborne) in humans in the United States.
In addition to Crypto and Giardia, diseases such as E coli and Hepatitis A can be serious risks to bathers in the event of an AFR. At Amazing Pools & Spas, Inc., we use this knowledge to battle all risks that may be present in your swimming pool.
Aside from threats to your health, we try to take preventative measures to avoid threats to your safety, such as entrapment, proper pool bonding, proper storage of chemicals, health codes, diving board removal, and more.
YOUR LEGAL RESPONSIBILITIES

Click here to see other articles regarding safety, new laws, and other items