Residential
Commercial
More
Health and Safety
Go Green
Plaster Start Up
Filter Types
Water Feature Services
Leak Detection
Photo Gallery
Tile Cleaning
Inspections
Remodeling Services
Repair Services
Other Services
Professionalism
About Us
Contact
Home
GO GREEN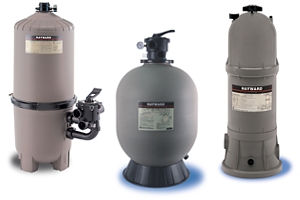 The "GO GREEN" revolution is sweeping the nation. Many states have started to mandate the installation of energy efficient equipment for new constructions. It is being said that all pumps sold will have to energy efficient. This means you will have no choice but to pay the higher costs that are associated with these items. However, fear not! There is a reason why these items are being placed into our laws. They are capable of saving you substantial amounts to money for the life of your swimming pool. The reason they are capable of do this? Simple. They have been made smarter
PUMPS
Variable speed "smart" pumps deliver the exact amount of water needed to perform different tasks. It is adaptable to any pool, spa or water feature application. Some pumps have onboard computers, which can be programmed to manage multiple functions. They can automatically set themselves and adjust as needed since they can constantly monitor water flow and electrical current.

A Standard pool pump, operating between 6 and 12 hours per day, can consume as much energy as all other home appliances combined, often costing more than $1,000 per year (based on national average of $0.15). Smart pumps can typically cut energy use by 30% to 90%, generally saving $600 to $1,400 in utility costs annually.

LIGHTING
Standard incandescent swimming pool light bulbs require approximately 500 watts of electricity to displace enough light to illuminate a standard sized swimming pool. The amount of watts needed to operate these lights cause a great amount of heat to go through the light fixture. This heat reduces the life of the light bulb inside, which can only last for up to 2000 hours at best. The heat also causes a vacuum effect within the fixture that can suck water into the fixture, causing it to damage the entire unit.
LED (Light Emitting Diode) automated color-changing pool and spa lights feature LED technology and is leading the way in energy efficient lighting, while offering the greatest savings in lifetime value, quality of light, and controllability. With LED lighting, combinations of individual colored LEDs are mixed and matched to achieve a vibrant spectrum of colors. These combinations are power sequenced to illuminate and cycle through colors at varying speeds, and in different sequences of color. LEDs offer super efficiency while being brighter than traditional incandescent pool lights.

LED pool lights only output fewer than 40 watts of electricity and can last 30,000 hours or more, minimizing replacement cost and disposal.
LIGHTING COMPARISON:
A Standard incandescent bulb, operating for 2 hours every day in a residential swimming pool will consume approximately 365 Kilowatt hours per year, at a cost of approximately $91 (based on $0.25 per kilowatt hour pricing). Continuing at that rate, the bulb will have a maximum life span of approximately 2.5 years.
An LED energy efficient bulb, operating at the same hours each day (for the same cost) will cost approximately $7 per year and the maximum life span will be approximately 41 years.
Automation
Automated controls have the ability to be the Albert Einstein's of your swimming pool control system. When energy efficient items, such as smart pumps and lights, are wired into an automated control system they can be programmed for maximum efficiency.
With personalized features, we can program a specific setting with your unique label to place it in motion. When John comes home from work to relax in his spa. He goes to his wall mounted control unit and touches the button labeled "John". This turns the valves from pool mode to spa mode. At the same time it turns on the jet pump, spa heater, and outdoor speakers so he can listen to his favorite music. This is all done with the push of one button and he did not have to go out to his equipment and touch any valves of electrified control. What's more is, while he was at work, his system was programmed to run using the least possible amount of energy to keep the pool and spa circulating.
A new feature with certain automation systems are internet monitoring of your system. When used with an automation control system and smart pump, we can monitor your equipments operation from our office. We can set your automation system to e-mail us when there is an issue with your system. This allows us to make sure your equipment is operating at peak efficiency.
We encourage you to research these items for yourself to see how the savings can change your thinking about your swimming pool.