AMAZING OC POOLS & SPAS SERVICE

AmazingPools.net services, cleans, repairs, and maintains pools and spas in Anaheim, Brea, Buena Park, Cypress, Cerritos, Costa Mesa, La Palma, Fountain Valley, Fullerton, Garden Grove, Huntington Beach, Irvine, La Habra, La Mirada, Los Alamitos, Lake Forest, Midway City, Newport Beach, Orange, Placentia, Rossmoor, Santa Ana, Seal Beach, Stanton, Tustin, Villa Park, Westminster, Yorba Linda.

I could never find a dependable pool/spa service in my part of OC...that is until Amazing Pools & Spas took over! Now I never have to give my swimming pool a second thought.

F.R. Anaheim Hills, CA
Residential
Commercial
More
Health and Safety
Go Green
Plaster Start Up
Filter Types
Water Feature Services
Leak Detection
Photo Gallery
Tile Cleaning
Inspections
Remodeling Services
Repair Services
Other Services
Professionalism
About Us
Contact
Home
COMMERCIAL SERVICES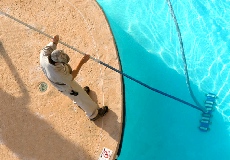 COMMERCIAL (public) POOLS
We serve a large number of "public" bodies of water throughout LA and Orange Counties. These accounts include apartment, condominium, and hotel swimming pools, wading pools, and spas. These areas are considered "public" because the county health inspector inspects them. We have a great knowledge of these health department codes and procedures and have a good working relationship with department officials.
Visit our Contractor's State License Board information on the CSLB website: http://www2.cslb.ca.gov/OnlineServices/CheckLicense/LicenseDetail.asp
Click here to see our prices for various items
Click here to see other articles regarding safety, new laws, and other items
POOL SERVICES
Our standard commercial service includes visiting your pool, spa, and/or wading pool as needed throughout the week during the spring/summer and fall/winter months. Filters are cleaned as necessary to provide a clean and clear pool that is safe for a large number of swimmers.
Our Commercial cleaning service includes:
Water chemistry analysis, based on the Langelier Index.

Treating water with the necessary chemicals to meet the health department, and National Swimming Pool Foundation standards.

Skimming water surface to remove floating matter.

Vacuuming bottom of pool as necessary.

Brush pool/spa walls and tile.

Cleaning all skimmer and pump baskets associated with the pool/spa as necessary.

Backwashing as necessary.
Chemical readings, chemicals added, and other notations relating to your pool will be placed on a lob sheet that will be placed in the equipment area. The health department requires that a log be kept in the equipment area as part of the inspection process.
JANITORIAL SERVICES
Our standard janitorial service includes visiting your pool area (or whatever outdoor area you need cleaned) as needed throughout the week during the spring/summer and fall/winter months.
Our Janitorial cleaning service includes:
Arrange, wipe down, and clean patio furniture

Pick up debris and wash off decks and entry way with high pressure hose

Empty pool area trash cans and replace liners

Empty bathroom trash cans and replace liners

Clean bathroom floors, windows, sills, mirrors, light fixtures, and partitions

Clean bathroom toilets, urinals, and sinks

Replace/stock bathroom toilet paper, paper towels, and hand soap

Notify management company of any damage and/or hazards in regards to the area be maintained
PERMITS & FEES
Please note that the health department and city requires permits for everything done to your swimming pool structure, equipment, or any area deemed "public". We encourage that permits be pulled for any changes made in these areas. We can perform any tasks needed in order to obtain these permits, which include artwork (technical drawings), formal letters, and filling out of forms.
State of California
Lic.# C53-898452
AMAZING POOLS & SPAS